Supercritical fluid extraction
Our services
Process development and scale-up based on ideas of our customers and results from research projects
Process design and safety engineering
Plant design and engineering
Project evaluation, feasibility studies
Equipment selection and manufacturing
Supervision of erection and commissioning
Training of plant operators
Product development in our own R&D units and our pilot plant
Apart from customized plants for specific products and applications we supply multifunctional supercritical fluid extraction (SFE) plants. Each plant is usually equipped with 2 separators for fractionated separation. For all plants a co-solvent system can be supplied if required.
Current dense gas applications (CO2)
Food industry

Coffee, tea, hops, herbs & spices, flavours, antioxidants
Extraction of special oils
Deoiling of press cakes
Cleaning rice

Pharmaceutical industry

Extraction of herbal medicines
Refining of pharmaceuticals

Cosmetic industry

Active ingredients for cosmeceutical applications
Fragrances

Other applications

Cleaning of cork
Impregnation of wood
Possible dense gas applications (CO2)
Chemical reactions

Polymerization, hydrogenation
Catalytic hydrothermal gasification
Enzymic reactions

Material processing

Microencapsulation
Coating, dyeing
Aerogels
Particle formation
Impregnation

Cleaning

Dry cleaning
Cleaning of metallic parts
Soil reclamation
Removal of undesired substances

Special applications

Membrane-based separation
Microwave-inducted SCFE
Preparative SCFE
Sterilization
Thin film extraction
Liquid CO2 from the storage tank is pressurized, heated and transferred to the extractor, where it gets loaded with the extracts according to adjusted conditions. A change of these conditions (pressure, temperature) causes precipitation of the dissolved substances in the separation vessels. The now gaseous CO2 is condensed, intermediately stored and recycled again.
Process principles
Gases in fluid condition (above the critical pressure and the critical temperature) dissolve larger quantities of substances than the partial pressure of the substance in the solvent normally permits
CO2 is an APOLAR solvent, which results in a high solubility for non polar and low polar substances up to a molecular weight of 250g/molSolubility decreases with increasing polarity
Highly polar substances are insolubleThe raw material is exposed to the fluid and soluble substances are transferred into it
Separation is achieved by change of parameters (pressure and temperature) or adsorption into, for instance, active coal
Process schema for Supercritical fluid extraction plant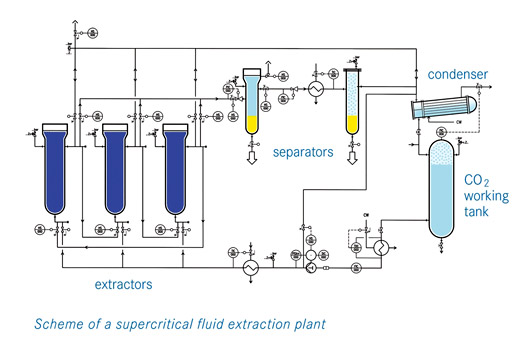 Process schema for Thin-film extraction plant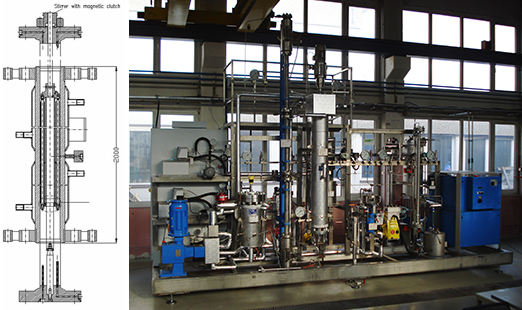 Advantages
CO2 is inexpensive, not combustible, not explosive, germicidal, free of bacteria, selective and mobile
Heat sensitive materials are gently treated
Products and residues are solvent-free
Fragrances and aromas remain unchanged
An excellent flavour profile can be achieved for oils
Pure extracts are produced with few process steps
The solvating power can be changed (conditions, or the use of modifiers)
Selective extraction and fractionated separation is possible
CO2 is recycled within the plant, is physiologically harmless and does not cause environmental problems like some conventional solvents
Easy soluble
Esters, alcohols
Aldehydes, ketones
Volatile oils
Aromas
Mono- and Sesquiterpenes
Reduced solubility
Edible oil from oilseeds
Waxes
Polyphenols
Unsoluble
Sugars
Fruit acids
Starch
Proteins
Mineral salt
Glycosides